Sebastain Remembered
Since his horrible death , I have not been able to talk about this until now. This is my four legged brother.
His eyes could look through your being and see what was bugging you. He would then jump up beside you and being licking you to comfort. Or if your feet were bare, his tongue an awesome foot massage. I am a poor photographer. Please forgive the images. He did not like cameras. I think he was a Native pit bull, aiyeee.
Dave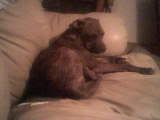 This was Sebastian when we first got him. You could not even tell he was a pit bull.
Starved.