Indigenous Empowerment Summit II April 1 6th-18th 2009‏
http://www.onetruemedia.com/shared?p=86742e941a3bb4f3bee4ef&skin_id=701&large&utm_source=otm&utm_medium=embed
Host: Indigenous Youth in all walks of life
Type: Meetings - Convention
Network: Global
Start Time: Thursday, April 16, 2009 at 8:00am
End Time: Saturday, April 18, 2009 at 11:00pm
Location: Haskell Indian Nations University Campus
Street: Indian Ave
City/Town: Lawrence, KS
Promoting awareness of sovereignty,ecological, social, cultural and new issues impacting Indigenous people.
Creating leadership, and mentorship, and fostering opportunities for our future leaders.
Guests are leaders from all areas of academia, activism, business, entertainment and media. We seek to bring communities of Indigenous people together.
Using Unity to provide a platform for an open dialogue toward the progressive needs of our people.
Strengthen the unity, networks and relationships through this community building endeavor.
Empower the youth to look to the ancestors and elders/leaders, enhancing the future, creating mentors and relationships to strengthen the indigenous network for generations to come.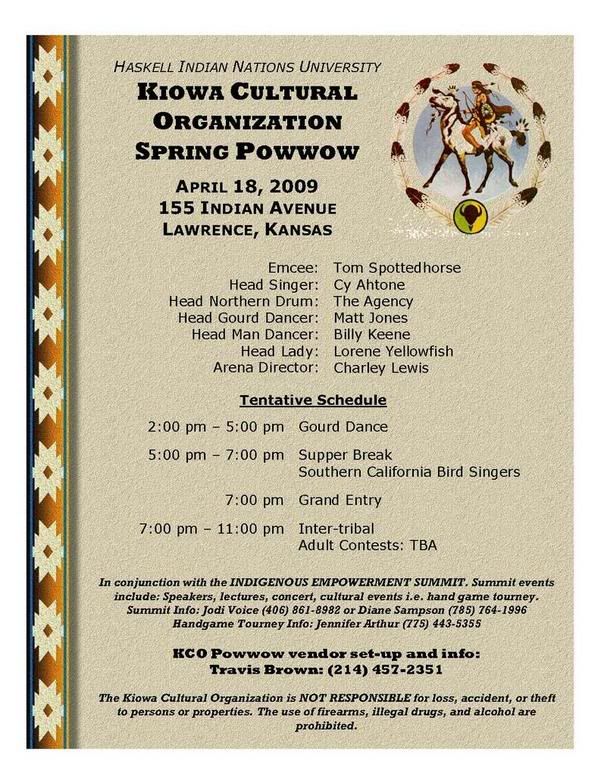 Come one, come all, to our presentations, concerts, films, feasts and powwow!
Indigenous Empowerment Summit, is now a 501(c)3!
So what does this mean? It "provides a deduction, for federal income tax purposes, for some donors who make charitable contributions to most types of 501(c)(3) organizations".
For More Up To Date Information Contact:
Jodi Voice
IndigenousEmpowermentSummit@gmail.com
www.IndigenousEmpowermentSummit.org
www.myspace.com/IndigenousEmpowerment
(406) 861-8982