Airport expansion part of larger picture (Indigenous grave Desecration Issue)
Well folks.....if you wait long enough...the truth will emerge from under what ever rock people put it. Check out the Macon News for 1-7-10, seems the Federal gov. over the years has put into place an nation-wide system, "air-taxi"....,to include local airports. In Macon county this would be the airstrip. The concept of the Small Aircraft Transportation System(SATS) is under the direction and research of NASA. That is the BIG BOYS. The goal of this "new" concept is to relieve congestion at larger airports and to increase economic development for small communities.
So......! guess that the Macon County Airstrip.......wants to become a large player.
Then.....alllllllllllllllllllllllllll the development in the whole worlddddddddddddd can come to their door. Never mind the new school they want to put at the end of the soon to be had runway(if they get their way).......what ,kids in danger????????? Do they care?????????? Remember it is millions of $$$$$$$$$$ dancing before their eyes..........What size airplane? Oh 4 - 10 seater.....since the SATS uses advanced technology there is no need for a tower.....guess that is why none was ever built......The SATS says this will allow for MULTIPLE AIRCRAFT TO TAKE OFF AND LAND IN All TYPES OF WEATHER. Do you still feel safe?
How about your children....in school...?
Your homes?????????? Oh do not be silly.....they will miss them. Right?????.....if not remember they will have all those Federal dollars.....maybe they could buy you a replacement home....NOT> Remember that jet that came down in that crowd of people.. ..it was just one plane.
Took out several homes. Killed people. But what is one plane?
Macon county wants economic development right?
At any cost?
Your expense?
It will be O.k. right?
Oh, they use NextGen....."this seeks to improve safety through collision avoidance". Keep in mind this is still in "down the road implementation". But it has been in the works since 2002...Earmarked to go national by 2020. So it will be O.k.? right?
Do you feel like an experiment yet?
You should.
FAA spokesperson, Kathleen Bergen said ,"they are gradually rolling it out". per Macon News.
Still feel O.k.?
It seems last month the Macon airport was awarded $2.2 million in Federal grants through the FAA.
If you are worried Macon county Chairman Ronnie Beale was quoted as saying, "the school is not in the flight pattern of the airport and no noise complaints have ever been received and an increase in air traffic is not a problem.
NCDOT airport project manager: Don Viventi......says "It is up to local municipalities to create zoning regulations in regards to schools.....". Still feel safe?
How are those mountains? Better take a picture....if the little airport that wants to be big,.......gets it's way. Those few......will put the many out of their way.
Yeh..........PROGRESSSSSSSSSSS SSSSSSSS.
NOT.
Miles Gregory was quoted saying," we need to develope the airport for it's potential and acccmmodate buisness travel and watch for safety.lt is all very positive for Macon County".
All ONTOP OF VilLAGES AND HUMAN BURIALS.
THAT SOUNDS REAL SAFE.........NOT!!!!!!!!!!
The Macon News report was written by Marta Dalrymple on 1-7-2010.
Sharon (Founder of STSSA)
Airport expansion part of larger picture
http://www.maconnews.com/index.php?option=com_content&task=view&id=6119&Itemid=34
Thursday, 07 January 2010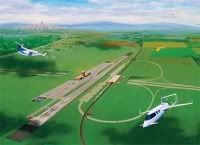 Illustrated above is the intermodal connectivity conceived by NASA's Small Aircraft Transportation System, (SATS) an initiative to provide new procedures and technologies to better integrate small airports and small aircraft in the nation's air transportation system.
By Marla Dalrymple
Staff Writer
The expansion of Macon County's small community airport and the Western Carolina Regional Airport in nearby Andrews is a bigger deal than anyone originally knew. In fact, the projects are a small part of a much larger initiative launched by the Federal government to establish an elaborate nationwide "air taxi" transportation system for smaller aircraft. Over the last decade, billions of dollars in Federal grants have been provided to improve general aviation airports across the country and to fund research and development of the necessary technology.
Evolution of "air taxi" transportation system
Plans begun as early as the mid-1990s are still coming to fruition as general aviation airports are increasingly cited for improvement grants ranging from direct "economic development" to "safety" and "technology" upgrades.
The concept of the Small Aircraft Transportation System (SATS) is designed to relieve congestion at larger airports and on the highways and to increase economic development for smaller communities by creating localized air accessibility. Under the direction and research of NASA, the original goal of the SATS concept of operations was to use small aircraft for business and personal transportation, for on-demand, pointto- point travel between general aviation and other landing facilities. Using Internet communications technologies for travel planning and scheduling, the system opens the door for a new generation of small aircraft as well as travelers.
Dr. Kenneth Stackpoole, Senior Vice President at the Florida Institute of Technology, was director of the SATS program in Florida four years ago. The purpose of the program, he said, is to prove new procedures and technologies to better integrate small airports and small aircraft in the nation's air transportation system.
The Small Aircraft Transportation System is meant to relieve air system congestion by utilizing secondary airports more, increasing the number of airports one can fly into. SATS offers an on-demand, point-to-point, widely distributed transportation system, relying on advanced 4-to 10-passenger aircraft with new operating capabilities. The SATS system promises improved safety, efficiency, reliability and affordability for small aircraft operating within the nation's public-uselanding facilities.
SATS uses advanced communication technologies, eliminating the need for control towers and ground-based radar at small airports. These advancements will allow multiple aircraft to take off from and land at the smallest of airports in nearly all weather conditions.
The research of the SATS program has led to a new initiative of the FAA, termed NextGen. Stackpoole said the SATS program did a lot of preliminary work for the NextGen program to be in the position it is today, calling NextGen a "follow- on to SATS."
Bob Ross at Embry-Riddle Aeronautical University said that SATS "phased into a new thing: NextGen," an air transportation system which works to replace radar based air traffic management, allow planes to fly shorter routes and reduce the cost of fuel.
Utilizing futuristic radar technology, NextGen also seeks to improve safety through collision avoidance, helping create a more realistic pinpoint of where each plane is while in flight. While much of NextGen's implementation is still "down-theroad," the concept has been in the works since 2002 and is earmarked to be national by 2020.
FAA spokesperson Kathleen Bergen said NextGen is beginning to be implemented in a few places. "We're gradually rolling it out," she said. "It will be a total change to satellite based technology."
"It is very high-tech and cutting edge," said Jerry Higgins with NCDOT of NextGen. Almost every NextGen capability, whether it is improved dissemination of weather information, shared data on aircraft of position and intent or trajectorybased operations, will rely on net-centric operations. Net-centric information refers to the near instantaneous flow of data, of all kinds, within the aviation environment.
Implementation of System
Improvements made are designed to allow airports to connect into a seamless national network. Last month the Macon County Airport was awarded $2.2 million in federal grants issued through the Federal Aviation Administration and the North Carolina Department of Transportation. The funding will help with the extension of the airport's runway and taxiway. The expansion to a 5,000-foot runway will meet additional FAA safety requirements and allow small jets to utilize the airport.
Congressman Heath Shuler stated in a press release about the grant, "The Macon County Airport plays an important role in the local economy and serves as a vital link for emergency responders. I will continue to work to help the airport grow and prosper."
Milles Gregory, chairman of the Macon County Airport Authority, said the block grant was pursued by the Airport Authority. "It is just to improve safety," he said of the funding. "Our goal is a standard runway length for safety reasons."
The former Andrews-Murphy Airport, now termed the Western Carolina Regional Airport, was awarded a $1,275,000 federal grant in 2009 for land acquisition in runway approach and to rehabilitate the airport's landing apron. Four regional airports, including Macon, Jackson, Rutherford County and the Western Carolina Regional Airport were awarded additional federal grants the same year of $150,000 each for various improvement uses.
The Western Carolina Regional Airport was also awarded a Small Community Air Service Development grant through the North Carolina Department of Transportation Division of Aviation. The grant was recognized in 2007 and included $573,278 to go toward economic development of the airport and surrounding community through education and marketing.
This grant was designed to educate people about the ability for local airports to provide transportation, said Dave Thomas, air service program manager at the NCDOT Division of Aviation. The airport now markets on-demand air service. Thomas said the benefits of having an on-demand air service provider in the area are many.
According to Thomas, general aviation airports have seen a trend of improvements in part to help increase corporate and business travel so that smaller communities can be competitive with more metropolitan areas. Building up an airport system is much like building highways, he said, but with less construction distance.
General aviation, versus commercial, airports handle mostly recreational planes and corporate jets. Creating a network for air travel involves less cost than other modes of travel, said Thomas, and is more efficient for business people "whose time is money." An on-demand air service provider can offer direct flights into the Western Carolina region versus having to fly into Atlanta or a comparable city and then driving hours into the area.
"It allows potential businesses to experience the area," said Thomas of the on-demand air service, "and allows the community to compete. It's a good economic development tool. Business related travel is an important business tool." If other small communities have aircraft around the region, empty legs of travel can be prevented, he said.
The improvement of general aviation airports also has roots in emergency services, said Thomas. In the event of natural disasters, the airports would certainly be utilized.
Currently, there are 2,834 general aviation airports nationwide, the world's most expansive system of airports. "It's making small community airports a bigger part of the transportation network," said Thomas of such initiatives, adding that he expects general aviation airports to grow tenfold over the next decade.
Richard Walls, Aviation Director at NCDOTDivision of Aviation, said the value of the state's airport system is in a network of airports. "A healthy, well-developed system of airports serves the entire state," said Walls.
According to Walls, general aviation airports added $1.8 billion to the North Carolina economy in 2006. "General aviation airports play a vital role in recruiting companies to North Carolina, moving private passengers, civil defense, reducing congestion at large commercial airports, medical evacuation and firefighting support logistics," said Walls.
But the effort toward improvement is national. DOT Deputy Secretary John Porcari said federal grants have been issued to help small airports meet safety standards and to ensure all areas can receive emergency medical services. According to a report by USA Today, the U.S. Congress has directed $15 billion to general aviation airports over the last 25 years during an Airport Improvement Program through the FAA.
About $100 million went to low-priority projects, such as building terminals at airports used mostly by private pilots, according to an analysis of annual transportation spending and FAA ratings of airport projects. The Williamsburg-Whitley Airport in Kentucky was built using $11 million in federal grants and boasts a Colonialstyle terminal with white columns. The state's Lake Cumberland Regional Airport added a glass-fronted terminal with $3.5 million in grants. The Montgomery Regional Airport in Alabama meanwhile received $22 million to build a terminal with a sloping glass façade and domed ceiling that mimics the architecture of the state Capitol.
Walls said that a network of airports needs to be maintained so that goods and people can be moved and to serve the country in the event of civil defense measures or emergency response.
Grants provided through programs such as the Small Community Air Service Development program help to create air taxi service to anywhere, said Walls. The FAA maintains a national plan to integrate airport systems, he said. Part of that plan is to use funding to bring each airport up to current standards of design, technology and capacity. "The country is definitely looking at airports," said Walls.
Concern Over Childrens' Safety
The objective of investing billions of dollars into small community airports, such as Macon's, is to increase air traffic with the convenience of more flights to more destinations. The Macon County Airport will be able to accommodate small jets and will be better poised to compete with other areas.
But in Macon County, an elementary school is situated a quarter of a mile from the airport runway. The county plans to build an even larger elementary school at the current school's site, accomodating approximately 400 students andcosting roughly $14 million to construct. The new school should serve the community for several decades.
During that period, if all goes according to plan, the airport should experience dramatic growth and a major increase in flights, all of which brings up worries over safety for the school children.
Some parents have expressed concern over the location of the school and its proximity to the airport. Jeremy Pyatt is father of two children who attended Iotla Elementary School.
"I think it is a definite concern," said Pyatt of attending school beside an expanding airport. "It seems like dodging a bullet everytime. Building a larger target doesn't seem like that great of an idea."
Pyatt said that other property should have been analyzed in planning the new school. "More thought needs to be put into this," he said. "They're not looking at location."
Parent Andrea Peavy said she is glad there have been no recent reported incidents at the Macon Aiport. She said that perhaps the new school should have been put somewhere else due to the airport.
But Macon County Commission Chairman Ronnie Beale said the school is not in the flight pattern of the airport and no noise complaints have ever been received. Beale said he doesn't see an increase in air traffic at the Macon Airport as a problem for the near future, especially with the high cost of such travel. "I just don't see Franklin as a major hub," he said.
Airport Authority Chairman Milles Gregory also doesn't believe the development of the airport poses a significant risk. "There will be a small increase in traffic of small planes," said Gregory.
The airport's location was fixed in the late 1960s, said Jim Conley Sr. who served as chairman of the Airport Authority at the time. The FAA surveyed several sites in Macon County and determined that the location in the Iotla Valley was the only one suited for an airport.
It is up to local municipalities to create zoning regulations in regard to schools and general aviation airports. "There are no regulations on that," said Don Viventi, airport project manager at NCDOT. Viventi said the FAA encourages local municipalities to adopt land use ordinances in regard to general aviation airports.
"We need to develop the airport for its potential," said Gregory. "We need to accommodate business travel and watch for safety. It is all very positive for Macon County."