Interviews update Crow Creek 12-18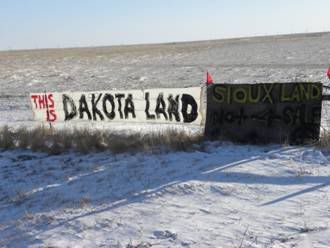 Photo by NDN News
Chairman Brandon Sazue from Crow Creek & Mo Brings Plenty, Oglala Lakota will be on NA Calling onTuesday, December 23rd
Native America Calling Airs Live
Monday - Friday, 1-2pm Eastern
www.nativeamericacalling.com
Listen to Tiokasin Ghosthorse's First Voices Indigenous Radio show from yesterday morning (December 17th)
Crow Creek section of the interview can be heard at the last 18 minutes or so.
www.firstvoicesindigenousradio.org/program_archives.html
Will post more relevant info and another update regarding what steps they are taking later this evening.
For more info, visit our website at:
NDN News
www.NDNnews.com
NDN News is a grassroots organization which acts as an information hub and resource for many issues in Indian Country. We are dedicated to providing information featuring headline stories, on-going issues, action alerts, and upcoming events.