Republican Gov. of Georgia Don't Know Nothing About Any Permits
(Note: And we wonder why Georgia is in such bad shape.)
Hall of Shame: Governor Perdue United States Army Corps of Engineers Complaint
Govenor Purdue Dumps in Jackson Lake
http://www.altamahariverkeeper.org/education/shame_perdue.asp
Governor's dredging in Jackson Lake questioned by some
http://www.altamahariverkeeper.org/education/shame_perdue.asp#dredging
Complaint Letter
http://www.altamahariverkeeper.org/education/shame_perdue.asp#complaint
Perdue to move dirt dredged from Lake Jackson boat slip
http://www.altamahariverkeeper.org/river_news/ocmulgee/news/112609.asp
Governor Purdue Dumps in Jackson Lake
On October 3, when Jackson Lake residents Fonnette and Robert Harris saw someone dredging in the lake with a track hoe, they took their pontoon boat across the lake to investigate.
According to the Harris's they confronted the man standing on the dock next to the dredging and asked him if he had permits to be dredging in Jackson Lake, the man replied, "Ma'am, I don't know nothing about any permits."
When the Harris's asked if Governor Perdue knew they were doing this work, the gentleman politely replied, "ma'am I am the Governor."
Mrs Harris said "Governor don't you know you are violating many environmental regulations? "
The Governor replied "I don't know nothing about any environmental regulations."
At that time Ms Harris said " and you are the Governor of GA ?"
The Altamaha Riverkeeper James Holland reported the incidence to the federal Environmental Protection Agency because the incidence requires a Federal investigation.
Holland says "It is illegal to dredge in Waters of the U.S. without first obtaining at minimum a Federal Clean Water Act Section 404 Permit. It is illegal to discharge a pollutant (dredge spoil) into the Waters of the U.S. without first obtaining a CWA Section 404 Permit to discharge pollutants (dredge spoil) into Waters of the U.S.
Holland says "the amount of dredged spoil discharged illegally is not in question at this time; what is in question is why Governor Perdue did not obtain any and all permits prior to beginning of his dredging in Waters of the U.S. The Governor saying he did not know a permit was needed is not an acceptable excuse for the Chief Law Enforcement Officer for the State of Georgia. It is common knowledge, every county commission chairman in this state knows that you cannot dredge in waters of the U.S. without prior obtaining Federal Permits, much less discharge the dredge spoil back into the same body of water it came from."
ARK talked to Molly Davis with the Environmental Protection Agency about the incident. According to Davis, Georgia Power is the permit holder for Jackson Lake and ultimately responsible for all actions on the lake. Davis says GA Power investigated and estimated that five cubic yards of dirt was dredged at the Governor's dock and discharged into the lake and that corrective action will be required of the Governor. She said, after Thanksgiving when Georgia Power lowers the lake levels, the Governor will have to properly remove and dispose of the approximate 5 cubic yards of dirt to a proper confined upland disposal site.
According to the Altamaha Riverkeeper this action (dredging) by Governor Perdue is no different from any other entity in the State of Georgia, "We expect everyone to follow the law. "Holland says.
ARK asked Mrs. Harris how she felt knowing the governor would have to take corrective action and she said "I will believe it when I see it."
Governor's dredging in Jackson Lake questioned by some
Nov. 07, 2009
By S. Heather Duncan | Macon Telegraph
Gov. Sonny Perdue recently dredged soil from Lake Jackson without a permit, dumping it into the lake and angering some neighbors and environmental advocates.
Georgia Power officials said the activity at Perdue's vacation home was not a violation, although a Georgia Power permit should have been obtained first. They said Perdue stopped digging as soon as he was informed that a permit was needed.
State and federal environmental regulations generally forbid property owners from dumping silt in a waterway or even allowing erosion off their property. The Ocmulgee River flows out of Lake Jackson and through Macon.
Perdue's communications director, Bert Brantley, said Perdue will obtain a proper permit in the future if he needs to do work at the lake, but he has no immediate plans to do so. Perdue's boat slip, like many at the lake after heavy rains this fall, had become clogged with mud.
Special to The Telegraph A man dredges soil from
Lake Jackson on the property of Gov. Sonny Perdue, left.
"The amount (dredged) was so small I don't think there was any thought that there would be any environmental damage," Brantley said. "With the investment he's made there, he loves the lake and only wants what's best for it."
Neighbor Fonnette Harris, who lives directly across from Perdue on the lake, reported the dredging to Georgia Power when she saw it happening Oct. 3. She said she and her husband rode to Perdue's dock in their pontoon boat to take pictures of a trackhoe sitting in the lake and scooping dirt out of Perdue's boat slip, then dumping it further into the lake.
According to Harris, she and her husband asked a man standing on the dock if he had a permit and whether he knew there were environmental regulations about dredging, and he said no.
"We asked, 'Does the governor know you're doing this on his property?' and he said, 'I am the governor,'" Harris said.
All lake residents are provided the Georgia Power Shoreline Management Guidelines, which list activities that require a permit, said Harris, whose husband's family has leased their lakefront land for more than 60 years.
After seeing pictures of the dredging, Altamaha Riverkeeper James Holland said they appear to depict a Clean Water Act violation. Holland's environmental advocacy group keeps tabs on the health of the watershed that drains to the Altamaha, including Lake Jackson.
But the amount of dredging may have been small enough that no laws were broken. Lynn Wallace, a Georgia Power spokeswoman, said the company estimates that Perdue dredged about 5 cubic yards of dirt.
Such activity could fall under a nationwide permit that allows dredging of less than 10 cubic yards without notifying anyone first, said David Crosby, deputy regulatory division chief for the U.S. Army Corps of Engineers' Savannah district. Otherwise, he said the circumstances described would constitute a Clean Water Act violation.
Georgia Power has a permit from the corps that gives it the authority to permit dredging within certain limits. Among them: No more than 500 cubic yards can be moved, and the silt dug out must be deposited in a confined upland area, Crosby said. He said the corps generally doesn't want to see heavy equipment in a waterway, either, although that's not explicitly forbidden.
But Wallace said Georgia Power prefers to see dredging equipment in the lake rather than in the shoreline buffer zone.
Crosby said Georgia Power has the authority to make someone remove silt dumped in the lake, but there is no agreement requiring Georgia Power to report a violation to the corps.
Holland said Perdue's actions, in his opinion, were an abuse of power and bad for the environment. "There are two different enforcements in Georgia, one for some and one for others," Holland said, noting that Perdue appoints the chief of the state Environmental Protection Division.
Kevin Chambers, the EPD communications director, said no complaints seem to have been filed or investigations conducted into the dredging at Perdue's property.
Wallace said Georgia Power handled the situation as it would for any property owner, adding that dredging permits are almost always approved.
Perdue has not applied for a permit since the incident, Wallace said, "but of course if he wants to dredge, we'll issue him a permit," she said.
However, Harris contended that this treatment is different from what her family has received.
"Just a few months ago, Georgia Power told us under no circumstances can you put equipment within 25 feet" of the shoreline, she said.
Harris said when she recently erected a temporary cover over her boat slip without written permission, Georgia Power sent her a letter threatening to revoke her family's lease and destroy the structures.
Butts County tax assessment records show Perdue bought his house and an adjacent lot at 196 Andrea Circle, assessed at almost $465,000 altogether, in 2007.
Photos below did not run with the Macon telegraph story and were taken by: Fonette Harris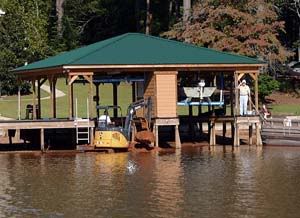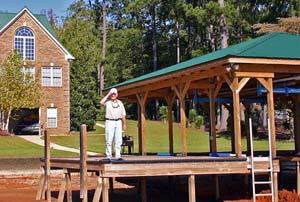 James Holland's complaint letter

Mr. Welborn, I need to make a language change in the original complaint to you. The sentence where I said EPD "can/will" should be changed to read "can not/will not" fairly investigate the Governor of Georgia because he appoints the EPD Director(s) for his administration. Thank you. James Holland, ARK ®

Good Morning Mr. Welborn,
Please accept this e-mail from the Altamaha Riverkeeper®, Inc. (ARK®) as an official complaint from the ARK® requesting assistance from the Environmental Protection Agency (EPA). This request for assistance is coming to you due to our belief that the Georgia Environmental Protection Division (EPD) can/will fairly investigate the Governor of Georgia because he appoints the EPD Director(s) for his administration. Further more, Governor Sonny Perdue is the Chief Law Enforcement Person for the State of Georgia.

The following are the reasons we believe this incident requires a Federal investigation;

This action (dredging) by Governor Perdue is no different from any other entity in the State of Georgia;
It is illegal to dredge in Waters of the U.S. without first obtaining at minimum a Federal Clean Water Act Section 404 Permit;
It is illegal to discharge a pollutant (dredge spoil) into the Waters of the U.S. without first obtaining a CWA Section 404 Permit to discharge pollutants (dredge spoil) into Waters of the U.S.;
The amount of dredged spoil discharged illegally is not in question at this time; what is in question is why Governor Perdue did not obtain any and all permits prior to beginning of his dredging in Waters of the U.S. (Lake Jackson)? What amount of dredging was intended prior to getting caught in an activity that appears to be unlawful dredging in the Waters of The U.S has no bearing on why proper permits were not obtained prior to the activity. Not knowing a permit was needed is not an acceptable excuse for the Chief Law Enforcement Officer for the State of Georgia. Every County Commissioner Chairman in this state knows that you can not dredge in waters of the U.S. without prior obtaining Federal Permits, much less discharge the dredge spoil back into the same body of water it came from.




Prior to this e-mail I forwarded you an article that appeared in the Florida Times Union (Georgia Edition) (11-6-09) regarding Governor Perdue's "Go Fish" initiative in Georgia regarding Jaycee Landing (Jesup) and dredging permits.

Once again, as the Chief EPA Region 4 Wetlands Enforcement we request that you initiate an investigation into the dredging activities of the Governor of Georgia dredging in Lake Jackson, a Water Body of the U.S.

I would like to thank you in advance for your assistance in this extremely important matter.
James Holland, Altamaha Riverkeeper®